---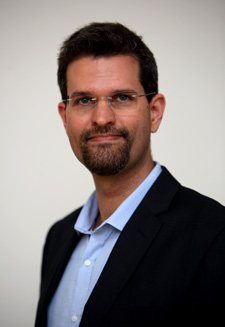 ---
Contact
Prof. Dr. Oliver Arránz Becker
phone: 0345 - 55 - 24260
fax: 0345 - 55 - 27150
oliver.arranz-becker@soziol...
room E.54.0
Martin-Luther-Universität Halle-Wittenberg
Institut für Soziologie
Emil-Abderhalden-Str. 26–27
06108 Halle (Saale)
postal address:
Martin-Luther-Universität Halle-Wittenberg
Institut für Soziologie
06099 Halle (Saale)
Sekretariat
phone: +49 345 - 55 - 242 41
fax: +49 345 - 55 - 271 50

Bettina Tuchardt
Martin-Luther-Universität Halle-Wittenberg
Institut für Soziologie
06099 Halle (Saale)
Sprechstunden
im Wintersemester 2020/21 nach Vereinbarung
Anmeldungen zu den Sprechstunden können über die Einschreibelisten in Stud.IP vorgenommen werden.
---
---
Login for editors
---
Professor O. Arránz Becker
Short CV
since 2015
Professorship, Quantitative Methods in the Social Sciences
at the Institute of Sociology at Martin Luther University Halle-
Wittenberg
2014-2015
Professorship, Empirical Social Research at the University of Cologne and Scientific Director of the Data Archive for the Social Sciences, GESIS – Leibniz Institute of Social
Sciences
2013-2014
Junior professor of education and family sociology (W1), University of Mannheim
2012-2013
Visiting professorship, General Sociology I, TU Chemnitz
12/2012
Habilitation at the Faculty of Behavioural and Social
Sciences, TU Chemnitz (venia legendi for sociology); title of cumulative habilitation thesis: "Prozesse sozialer
Homogenisierung: Zur Entstehung von Ähnlichkeit in
sozialen Aggregaten"
03/2008
Conferral of PhD from the Institute of
Sociology at RWTH Aachen; dissertation title: "Was hält
Partnerschaften zusammen? Psychologische und
soziologische Erklärungsansätze zum Erfolg von
Paarbeziehungen"
Research Areas
Quantitative methods, in particular methods for analysing dyads and panel analyses
Family research and demographic processes (choice of lifestyles, fertility, separation and divorce, partnerships and inter-generational relationships)
Health research (medical research, health inequality)
Academic Roles
Board Chair of Zentrum für Sozialforschung Halle e.V.

External Fellow at the Mannheimer Zentrum für Europäische Sozialforschung (MZES)

Committee member in the Section for "Sociology of the Family" at the German Sociological Association (2015-2021)
Co-editor of the book series "Familienforschung" Springer VS Verlag
Reviewer for Deutsche Forschungsgemeinschaft (DFG) and for Research Foundation - Flanders (Fonds Wetenschappelijk Onderzoek - Vlaanderen, FWO), Belgium
Reviewer for Advances in Life Course Research, CPoS – Comparative Population Studies, Demographic Research, European Sociological Review, Journal of Applied Social Science Studies (Schmollers Jahrbuch), Journal of Family Issues, Journal of Marriage and Family, Kölner Zeitschrift für Soziologie und Sozialpsychologie, MDA (methods–data–analysis), Population Studies, Schweizerische Zeitschrift für Soziologie, Soziale Welt, Zeitschrift für Familienforschung, Zeitschrift für Soziologie
Five Most-Recent Publications
Publications by O. Arránz-Becker (Date: 09/2021)
Publikationsliste 2021_09.pdf (27.2 KB) vom 20.08.2021
Current Courses
Aktuell bin ich im Forschungssemester und biete keine Lehrveranstaltungen an. Bitte wenden Sie sich bei prüfungs- und lehrbezogenen Fragen an Herrn Dr. Baron.
Staff Members
Dr. Daniel Baron
Tel.: 0345 55-24260
E-Mail: daniel.baron@soziologie.uni-halle.de
Vivian Herold (geb. Lotter), M.A.
Tel.: 0345 55-24691
E-Mail: vivian.herold@soziologie.uni-halle.de
Dipl.-Volksw. Dipl.-Soz. Thomas Köhler
Tel.: 0345 55-24225
E-Mail: thomas.koehler@soziologie.uni-halle.de
Dr. Wolfgang Langer
Tel.: 0345 55-24248
E-Mail: wolfgang.langer@soziologie.uni-halle.de
Katharina Loter, M.Sc.
Tel.: 0345 55-24696
E-Mail: katharina.loter@soziologie.uni-halle.de
Christian Schüffler, M. Sc.
Tel.: 0345 55-24691
E-Mail: christian.schueffler@soziologie.uni-halle.de
---
---