---
---
Contact
Institut für Soziologie
phone: 0345 55-24251
Herr Wasel Halwani
phone: 0345 55-24241
Bettina Tuchardt
fax: 0345 55-27150
institut@soziologie.uni-hal...
Emil-Abderhalden-Str. 26–27
06108 Halle (Saale)
postal address:
Martin-Luther-Universität Halle-Wittenberg
Institut für Soziologie
06099 Halle (Saale)
---
---
Login for editors
---
Institute of Sociology
Understanding society, unlocking perspectives
The guiding principle of our work is to understand society in order to unlock perspectives on social change (institutions, organisations, generations, regional, national and transnational interrelationships). In doing so, we are committed to the standards of modern scientific principles. Our goals are to:
Contribute to the understanding of social processes and structures
Shape international scientific debate
Teach sociology in all of its dimensions based on current scientific debate
Foster up-and-coming researchers by giving them the opportunity to conduct research independently and autonomously
Introduce sociology findings into public discourse
Shape the development of the discipline on university and non-university committees.
News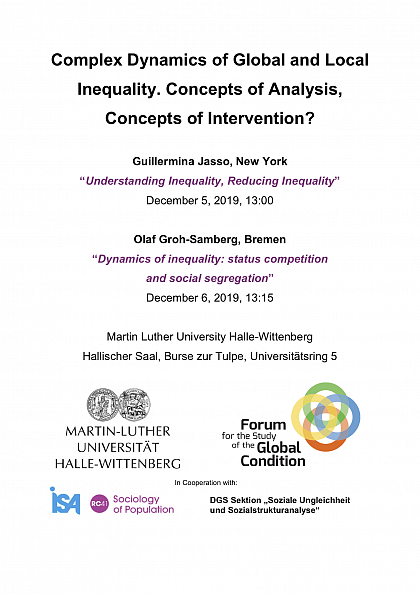 Veranstaltungshinweis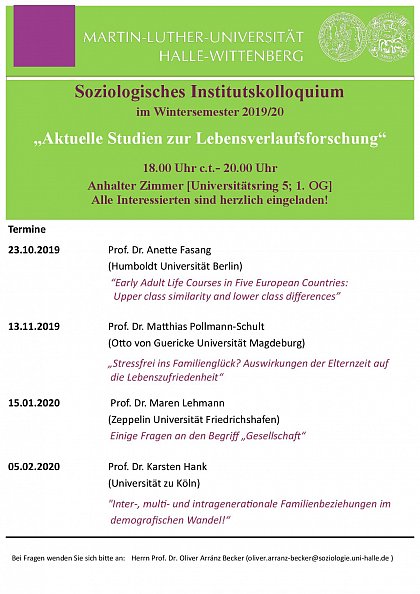 Complex Dynamics of Global and Local Inequality. Concepts of Analysis, Concepts of Intervention?
December 5-6, 2019, Martin Luther University Halle-Wittenberg, Germany
Organizers: Dr. Walter Bartl, Dr. Oliver Winkler
The workshop aims to provide a forum for debating the theoretical concepts and methodological tools used in sociology to analyse the complex dynamics of global and local inequality. The workshop is rooted in three distinct observations and aims to bring about a fruitful dialogue. First, in a framework that conceptualises global inequality as composed by inequalities within countries and inequalities between countries, global inequality is decreasing. Yet, while income inequality between countries is decreasing, inequality in many national societies is on the rise. Second, a mounting wealth of data enables the ever more precise analysis of the complex dynamics of global and local inequalities. Third, these complex dynamics of global inequality call into question the somewhat simplistic conceptions of social justice underlying many of our analyses. In our view, these observations raise two main questions: Which conceptual and methodological tools can we use to analyse the complex dynamics of global and local inequalities? What are the implications of our analyses with respect to the possibilities of (transnational) intervention?
Workshop program.
Program.pdf (327.9 KB) vom 27.11.2019
Call for Papers:
Geschlecht und soziale Ungleichheit @work - Theoretische und empirische Erkundungen
Frankfurt am Main, 25 - 26 March 2020

For further information, please see the call.
Call_Arbeit_Organisation_Geschlecht_2020.pdf (372.9 KB) vom 29.10.2019
Lageplan, Anreise
Ankunft in Halle Hbf:
Den Hauptbahnhof Halle (Saale) beim Hauptausgang vorbei am DB-Reisezentrum verlassen, an den Taxis links entlang bis zur Straßenbahnhaltestelle.
Mit den Straßenbahn-Linien (2,5,10,12) Richtung "Am Steintor" fahren.
Die Straßenbahn braucht ca. 10 Minuten bis zur Haltestelle "Am Steintor".
Fahrkarten sind am Automaten an der Haltestelle erhältlich, manchmal auch mit Geldkarte an den Automaten im Fahrzeug.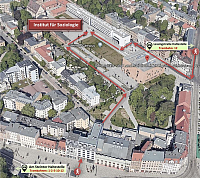 Office hours
| Day | Time |
| --- | --- |
| Tuesday | 2:00 pm – 4:00 pm |
| Thursday | 10:00 am – 12:00 pm |
Related areas

---
---