---
---
Contact
Institut für Soziologie
phone: 0345 55-24251
Frau Anna Tihonova
phone: 0345 55-24241
Bettina Tuchardt
fax: 0345 55-27150
institut@soziologie.uni-hal...
Emil-Abderhalden-Str. 26–27
06108 Halle (Saale)
postal address:
Martin-Luther-Universität Halle-Wittenberg
Institut für Soziologie
06099 Halle (Saale)
---
---
Login for editors
---
Institute of Sociology
Understanding society, unlocking perspectives
The guiding principle of our work is to understand society in order to unlock perspectives on social change (institutions, organisations, generations, regional, national and transnational interrelationships). In doing so, we are committed to the standards of modern scientific principles. Our goals are to:
Contribute to the understanding of social processes and structures
Shape international scientific debate
Teach sociology in all of its dimensions based on current scientific debate
Foster up-and-coming researchers by giving them the opportunity to conduct research independently and autonomously
Introduce sociology findings into public discourse
Shape the development of the discipline on university and non-university committees.
News
Do 26.11.2020, 18 Uhr, Vortrag: Prof. Dr. Andreas Langenohl (Universität Gießen): Preiszeichen als Sinnformen. Ringvorlesungsbeitrag zu "Kapitalismus - Sprache - Kritik". Online-Zugang über https://mluconf.uni-halle.de/b/ste-qe3-wnj-8uj
Mo, 07.12.2020, 18.15 Uhr, Lecture: Prof. Dr. Kathrin Leuze (Friedrich-Schiller-University Jena): "Bildungsexpansion, Bologna-Prozess und Wandel der Arbeitsmarkterträge von Hochschulabsolvent*innen". Lecture in the context of the "Hallesche Abendgespräche", Winter-Term 2020/21: "Academization and professionalization. Reflections on the role of academic knowledge in occupational action". Online access via https://mluconf.uni-halle.de/b/hei-yxv-qdw-dxp
Map of the area
Arriving at Halle Main Station:
Leave Halle Central Station at the main exit past the DB travel centre, turn left along the taxis to the tram stop.
Take the tram lines (2,5,10,12) until "Am Steintor."
The tram takes about 5 minutes to the stop "Am Steintor."
Tickets are available at the vending machine at the stop. Some vehicles provide vending machines.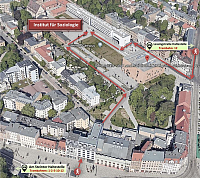 ---
Office hours
| Day | Time |
| --- | --- |
| Tuesday | 2:00 pm – 4:00 pm |
| Thursday | 10:00 am – 12:00 pm |
Related areas
---
---