---
---
Contact
Institutsgruppe Soziologie
room 1. EG
Emil-Abderhalden-Straße 9
06099 Halle (Saale)
institutsgruppe@soziologie.uni-halle.de


How to reach us
postal address:
Martin-Luther-Universität
Halle-Wittenberg
Institut für Soziologie
Studentische Institutsgruppe
06099 Halle (Saale)
---
---
Login for editors
---
Institute Group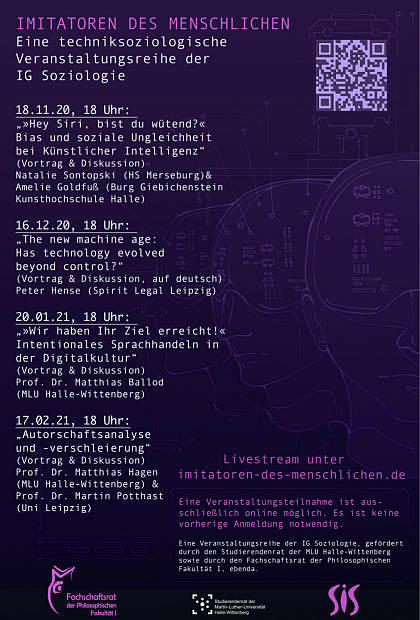 The Sociology Institute Group currently consists of around five volunteer members who are naturally studying sociology but in different semesters, course combinations or programmes. The members are keen to shape the sociology programme here at the MLU Halle-Wittenberg.
Our activities range from working with the institute to creating our own format of teaching. As student representatives, we take part in discussions about study courses and appointment committees. At the same time, we create offerings that add important perspectives to familiar lectures.
It should be noted that, within the IG, there is no consensus with regard to these perspectives – rather the Institute Group represents a structure for pursuing our interests in a coordinated manner, for example, to independently plan a series of lectures on a selected topic.
In addition, we share a commitment to strengthening the study interests of sociology students and encourage them to establish contacts with one another. Special attention is placed on the annual orientation phase at the start of the winter semester.
Therefore, we are also the first point of contact for all sociology students when they have questions, worries or issues regarding their education, the institute, or the university. You can take advantage of the email mailing list at any time (see contact details on the right) or speak to us directly.
We regularly post on Facebook about everything worth knowing about the course of study and sociology. There you will find our latest events, official invitations to institute events, as well as internships and job postings. Thanks to our institute-wide mailing list, this information can also be sent to your student email account.
The IG is also on the lookout for new members since the more dedicated members we have, the more active, better connected and livelier the sociology student body is! And that benefits the entire degree programme.
Our meetings take place online at the moment. Please write us an email, if you want to join.
All the best!
Effective: 10 november 2020
---
---