---
---
---
Contact
Sekretariat
phone: 0345 55-24241
fax: 0345 55-27150
bettina.tuchardt@soziologie...
Bettina Tuchardt
Martin-Luther-Universität Halle-Wittenberg
Institut für Soziologie
06099 Halle (Saale)
---
---
Login for editors
---
Economic and Organisational Sociology
Welcome to the internet page of the Chair for Economic and Organisational Sociology at Martin Luther University Halle-Wittenberg!
Latest information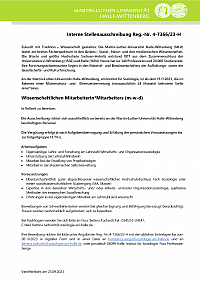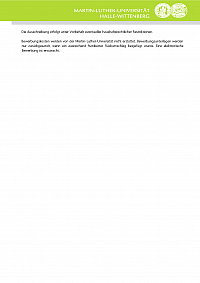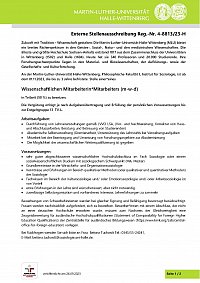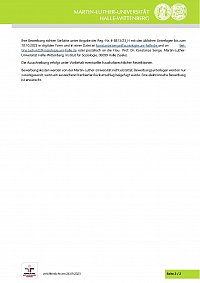 Call for Papers:
Economic Organizations, Uncertainty, and Risk: Sociological Analyses of Economic Organizations in Times of Crises
Special Issue Scandinavian Journal of Management:
The past 15 years represent an era of capitalism in crises. Phenomena like the global financial crisis (2007-2009), followed by the European sovereign debt crisis in 2010, major political occurrences such as the Brexit referendum (2016), or Covid-19 have challenged economic and political reality that likewise engendered critics towards it. Furthermore, the danger of an ecological collapse is omnipresent. And with respect to the ongoing war in Ukraine it is currently impossible to foresee what humanitarian and social catastrophe is looming.
Full call: https://www.journals.elsevier.com/scandinavian-journal-of-management/forthcoming-special-issues/economic-organizations-uncertainty-and-risk-sociological-analyses-of-economic-organizations-in-times-of-crises


CfP_Workshop UnSicherheitsgefühle.pdf (107.5 KB) vom 07.12.2020
ASQ Nachhaltigkeit 2020: "Garbage is for the garbage can, not the woods"
Poster ASQ Nachhaltigkeit 2020 komprimiert.pdf (4.1 MB) vom 26.08.2020
The Chair's Core Research Areas
At the Chair for Economic and Organisational Sociology we are dedicated to analysing and explaining economic transformation processes and the social uncertainties, contradictions and risks associated with them. Based on classic sociological works and the latest in social science research findings, our staff are currently involved in research projects that examine economic and organisational processes and phenomena, such as markets (in particular financial markets and financialization tendencies); organisations, (in particular public limited companies and administration organisations); sustainability phenomena, such as corporate social responsibility (CSR) and its financialization; emotions in economic decision-making situations; and the significance of risk and uncertainty. We question the implicitness of economic and organisational actions (e.g. growth compulsion of capitalism) and are interested in the non-complementarity of social logic (e.g. sustainability and maximising profits). The ongoing research projects at the chair search for answers to the following questions:
How can sustainability and financial market orientation be reconciled in companies listed on the German stock market? (Konstanze Senge / Simon Dabrowski)
Which risky practices can be observed on the financial market and in policymaking, and to what extent do these fields influence one another in their constitution of risk? (Konstanze Senge/Lisa Knoll)
To what extent do sustainability indicators serve as key indicators in the calculation of risk indicators of European credit insurers? (Audrey Terracher-Lipinski)
How do organisations decide on programmes for processing future events? (Bernadette Hof)
To what extent current models of subjects and notions of cultural critique react to the environmental demands of economic organisations of postindustrial societies?
Staff Members
---
---